CONTACT:
Jayna Leach, Sterling Resorts, (850) 230-6110 ext 109 or jleach@sterlingresorts.com
Christie Gregovich, Ypartnership, (407) 838-1822 or christie.gregovich@ypartnership.com
Panama City Beach, Fla. (Oct. 10, 2011) – Sterling Resorts has been named recipient of the prestigious Flagler Award, recognizing outstanding tourism marketing on behalf of the Florida Commission on Tourism. Sterling's Happy Hour Sale promotional email campaign garnered top honors for creativity, innovation, vision and commitment – hallmarks of this annual competition held in conjunction with the Florida Governor's Conference on Tourism.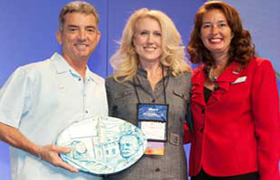 Launched in the summer of 2010, Sterling's Happy Hour Sale promotion was purposed to reassure travelers and combat cancellations in the wake of the Gulf of Mexico Oil Spill. The weekly email campaign distributed exclusive savings to regional subscribers each Friday afternoon, with time-sensitive offers available at a select Sterling property located along Panama City Beach, Scenic 30-A and in Destin. Propelled by weekly Gulf updates and Sterling's '100% Clean Beach' guarantee, the Happy Hour Sale campaign generated more than 2,600 phone inquiries and 300 reservations – generating a total $212,000 in revenue.
In recognition of this milestone achievement, Sterling was presented with the coveted Henry Award – an honor given to the standout entry in each Flagler Award category. A panel of five judges awarded Sterling top scores in the Direct Marketing segment, whose competitors included major tourism destinations like St. Pete/Clearwater and The Florida Keys, Key West.
"Sterling is thrilled to receive this esteemed award and to be counted among Florida's tourism pioneers," says Jayna Leach, director of marketing for Sterling Resorts & Realty. "In its inaugural year, Sterling's Happy Hour Sale not only encouraged visitation to our beautiful Gulf Coast beaches; as a communication channel, it forged solid guest relationships. In fact, Sterling's Happy Hour was brought back this year by popular demand."
Leach accepted Sterling's Flagler Award on Mon., Sept. 26, before an audience of industry leaders assembled for the 44th Annual Florida Governor's Conference on Tourism. Named for Henry Flagler, the designation was established in 2000 to recognize outstanding tourism marketing in Florida. The awards are open to all individuals, private businesses and not-for-profit organizations offering a product or service that promotes tourism to or within the state of Florida.
Sterling Resorts offers more than 1,000 family-friendly condominium located in Panama City Beach, the Beaches of South Walton/Scenic 30A and Destin, Florida.
Visit www.SterlingResorts.com or call 1-888-506-9396. Travelers can also keep up to date on Sterling Resorts' special offers by becoming a fan on Facebook, at www.facebook.com/sterlingresorts.
About Sterling Resorts Sterling Resorts is one of the Southeast United States' leading vacation rental management companies. Sterling's current portfolio includes more than 20 beautiful condominium resorts featuring 1,000 units of luxurious vacation homes in Northwest Florida and Mississippi.
About Encore Enterprises, Inc. Encore Enterprises, Inc. is a diversified commercial real estate firm in Dallas, Texas, with a unique blend of expertise, innovation and efficiency in acquisitions, investments, asset and property management, leasing and business development.  Since the company's formation in 1999, Encore Enterprises has completed over $1 billion of acquisition, development and complex financial transactions with a focus on the Southern, Eastern and Midwestern United States.  For more information about Encore Enterprises, Inc., visit www.encore.bz or call (214) 259-7000.