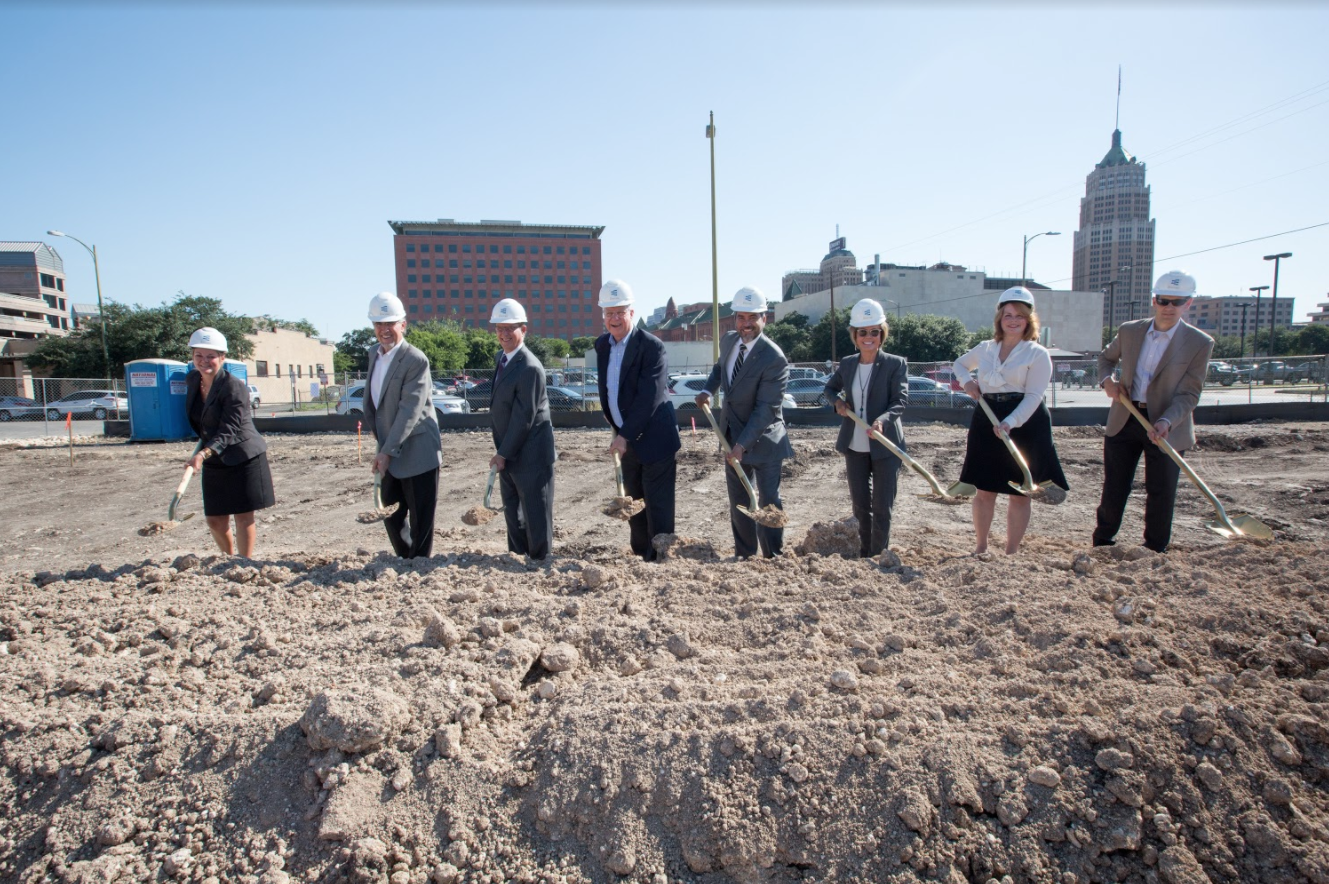 SAN ANTONIO (June 7, 2017) — Encore Multi-Family, LLC President Bradley Miller, Senior Director of Real Estate Services for Greystar, Jill Welborn, City Council District 1 Councilman Roberto Treviño, San Antonio City Manager Sheryl Scully, and Judge Nelson Wolff of Bexar County gathered today to celebrate the groundbreaking of the new Encore SoFlo luxury apartment community.
Located in downtown San Antonio's Civic Core at the intersection of South Flores St. and Old Guilbeau St., the project is well situated nearby several major employment centers in a fast growing, economically diverse market. The development offers immediate access to major traffic thoroughfares and a variety of nearby amenities for tenants.
"Continued job growth throughout the city of San Antonio has ensured a high demand in multi-family developments," said Brad Miller, President of Encore Multi-Family. "The City's commitment to the urban core for residential development and the opening of HEB's first downtown grocery store have been game changers in promoting a downtown living experience similar to other large cities in Texas."
The project will include uniquely designed resident amenities and common areas including a pool and spa, dog park, and structured parking garage. Residences will begin leasing Fall of 2018.
"Encore SoFlo residents will be able to take advantage of modern, urban living including living within walking distance of the South Flores Market H-E-B, the River Walk, San Pedro Creek, a variety of entertainment and dining options, and other downtown businesses including the emerging tech district," said District 1 City Councilman Roberto C. Treviño. "Downtown is a neighborhood for everyone to live, work and play, and I applaud Encore Multi-Family for committing to their first downtown San Antonio residential development, Encore SoFlo."
Greystar, a global leader in multi-family real estate services, will oversee property management for the development.
"We are delighted to have the opportunity to work with Encore Multi-Family," said Jill Welborn, Managing Director of Real Estate at Greystar. "Encore SoFlo will be a vibrant community that offers modern apartment homes and unsurpassed amenities."
Occupancy is currently scheduled for fall 2018, with an anticipated completion date of mid-2019.
About Encore Enterprises
Encore Enterprises, Inc. is a privately owned national real estate investment company founded in 1999 with corporate headquarters in Dallas, Texas. Encore develops, acquires, and manages hotels, multi-family communities, retail shopping centers, and commercial offices. For more information visit encore.bz, or call (214) 259-7000.
One San Antonio
Diverse, internationally connected and globally competitive, San Antonio has a vibrant culture and economy and is consistently ranked among the fastest-growing cities in the United States. America's seventh-largest city offers opportunities in industries ranging from bioscience, financial services, aerospace, cybersecurity, energy and transportation manufacturing to healthcare. In 2016, San Antonio was named an All-America City by the National Civic League. We are "Military City USA," home to crucial military commands supported by a patriotic citizenry. We welcome 32.5 million visitors annually who inject $13.4 billion annually into our economy, and UNESCO recently designated the city's Spanish colonial missions as a World Heritage Site. Celebrating its 300th anniversary in 2018, San Antonio is a city with a storied past and an even brighter future.
###