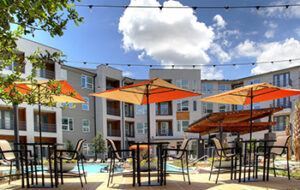 (Dallas, Texas) July 15, 2015 – Encore Multi-Family, LLC (EMF), a division of the Dallas-based Encore Enterprises, Inc., has announced the sale of Encore 6162, one of their newest Dallas apartment communities located in the Parkland/UT Southwestern Medical District. The 288-unit urban infill property was purchased by an Atlanta-based investment group.
"This sale was an integral part of our strategy to redeploy sale proceeds into our development pipeline and fund pre-development expenditures for future projects. This is an important part of Encore's business strategy, and will enable the company to continue working towards its operational and financial goals and towards enhancing long-term value," said Dr. Bharat Sangani, Chairman of Encore Enterprises, Inc. "The sleek, modern architecture combined with extraordinary amenities and well-designed floor plans promoted superior operating results and maximized value for the company and our investors," added Brad Miller, EMF's President.
About Encore Multi-Family, LLC Encore Multi-Family, LLC is a subsidiary of Encore Enterprises, Inc. and was founded in 2008 as a fully integrated multi-family developer, owner and operator. The company is involved in all aspects of multifamily development projects and acquisitions including ground-up developments, joint ventures and mixed-use turnkey developments.
About Encore Enterprises, Inc. Encore Enterprises, Inc. is a privately owned national real estate company founded in 1999 with corporate headquarters in Dallas, Texas. Encore develops, acquires, and manages hotels, multifamily communities, retail shopping centers, commercial offices, and public-private mixed use developments. For more information, contact Encore Enterprises, Inc., or call (214) 259-7000.
New York
,
California
,
Mississippi
,
Texas
,
Commercial Real Estate
,
Multi-Family Investment Opportunities
Amy Upton
2018-07-18T16:43:24-05:00
Share This Story, Choose Your Platform!