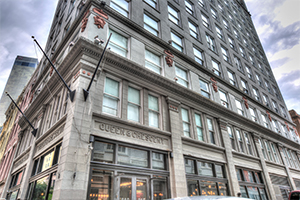 (Dallas, Texas) January 8, 2016 – Encore Hospitality, LLC, a subsidiary of Encore Enterprises, Inc., has recently purchased the Q&C Hotel/Bar, formerly known as the Queen & Crescent Hotel in the Central Business District of New Orleans, Louisiana. The property was sold for $51.2 million by Northview Hotel Group of Connecticut who had purchased the hotel in 2013.
"The acquisition of the Q&C Hotel/Bar has been a exceptional addition to our hotel portfolio," said Glenn Pedersen, President of Encore Hospitality. "We are currently on track to convert the development into a Marriott Autograph Collection Hotel within the next six months."
Constructed in 1913 and fully renovated in 2014, the Q&C Hotel will be branded under the Autograph Collection of Marriott International, Inc. (NASDAQ: MAR), a portfolio of iconic, independent properties celebrating individuality. Q&C Hotel's affiliation with the Autograph Collection Hotels will connect it with Marriott's worldwide reservation system and frequent traveler program, "Marriott Rewards," which has approximately 54 million members.
"The Q&C Hotel/Bar is a historical landmark of New Orleans and we intend on extending its legacy as a cornerstone for business and leisure travelers, as well as serving as one of the city's premier wedding venues," said Bharat Sangani, Chairman of Encore Enterprises. The hotel currently boasts 196 guest rooms as well as a revamped lobby and bar area. Other on-site amenities include a 24-hour fitness center, gathering spaces, valet and self-parking, and 2,600 square feet of flexible meeting space.
About Encore Hospitality, LLC
Encore Hospitality, LLC is a subsidiary of Encore Enterprises, Inc., and was founded in 1999 as a fully integrated, hospitality acquisition, development and asset management company focusing on the upper mid-priced, nationally branded select-service and full-service hotel sector. For more information about Encore Hospitality, LLC, visit www.encore.bz, or call (214) 259-7000.
About Encore Enterprises, Inc.
Encore Enterprises, Inc. is a privately owned national real estate investment company founded in 1999 with corporate headquarters in Dallas, Texas. Encore develops, acquires, and manages hotels, multi-family communities, retail shopping centers, commercial offices, and public-private mixed use developments.
About Autograph Collection Hotels

Autograph Collection Hotels celebrates individuality by curating one-of-a-kind travel experiences at more than 90 luxury lifestyle hotels found in the world's most desirable destinations. Like nothing else, each hotel has been hand selected for its distinction as an iconic landmark, for its remarkable design or for its best-in-class resort amenities.