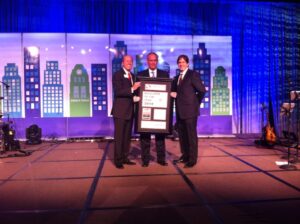 Frisco, TEXAS (January 22, 2015) – Frisco businesses and several community individuals were honored on Friday, January 16 at the 31st Annual Awards Celebration hosted by the Frisco Chamber of Commerce. Over 700 attendees watched and listened as Joe Trahan, weekend sports anchor for WFAA, announced the winners for their achievements.
Frisco Square was extremely honored to have received the 2014 Developer of the Year Award. This would not have been possible without Pegasus Ablon's 275 unit multi-family development, Ablon at Frisco Square, and the Encore Enterprises/Wolverine Interests office and retail project for Gearbox Software's new headquarters, the Tower at Frisco Square.
Frisco Square congratulates all of the business award winners in their categories:
Solopreneur: Gamble Media Group
Micro Business: Newman Real Estate
Small Business: Community Impact Newspaper
Medium Business: Garver, LLC
Large Business: PGA Pro Superstore
Macro Business: Strasburger & Price LLC
Developer: Frisco Square
Small Nonprofit: Heritage Association of Frisco
Large Nonprofit: Children's Advocacy Center of Collin County
Entrepreneur: Meek Industries
Home-Based Business: Lynne Malkoff Promotions
According to the Frisco Chamber of Commerce, applications and nominations were received from many Chamber businesses and entities and were subject to a review and judged by a cross-section of Frisco business professionals that comprised the review committee. The committee studied over 100 pages of applications as part of the selection process.
"It is a tremendous honor for Frisco Square to receive such an award on behalf the developers" said Mark Flynt, President of the Frisco Square Property Owners Association. "Frisco Square would like to congratulate all of the award winners on their achievements. It is a privilege to be a part of the Frisco community and to have the support of its citizens. We'd also like to express our appreciation to the Frisco Chamber of Commerce for putting on such a great event."
Frisco Square is a pedestrian-friendly, urban experience that blends shopping, dining, office space, apartment living, parks and Frisco's City Hall and library. For additional information about Frisco Square and to sign up for the weekly e-news, visit friscosquare.com.
Frisco Square Social Media, Marketing & Community Manager
Lara K Hansen
LK Photography & Social Media Services
lhansen@friscosquare.com
Frisco, Texas
,
New York
,
California
,
Florida
,
Commercial Real Estate
,
Retail Investment Opportunities
Amy Upton
2018-07-25T15:05:49-05:00
Share This Story, Choose Your Platform!