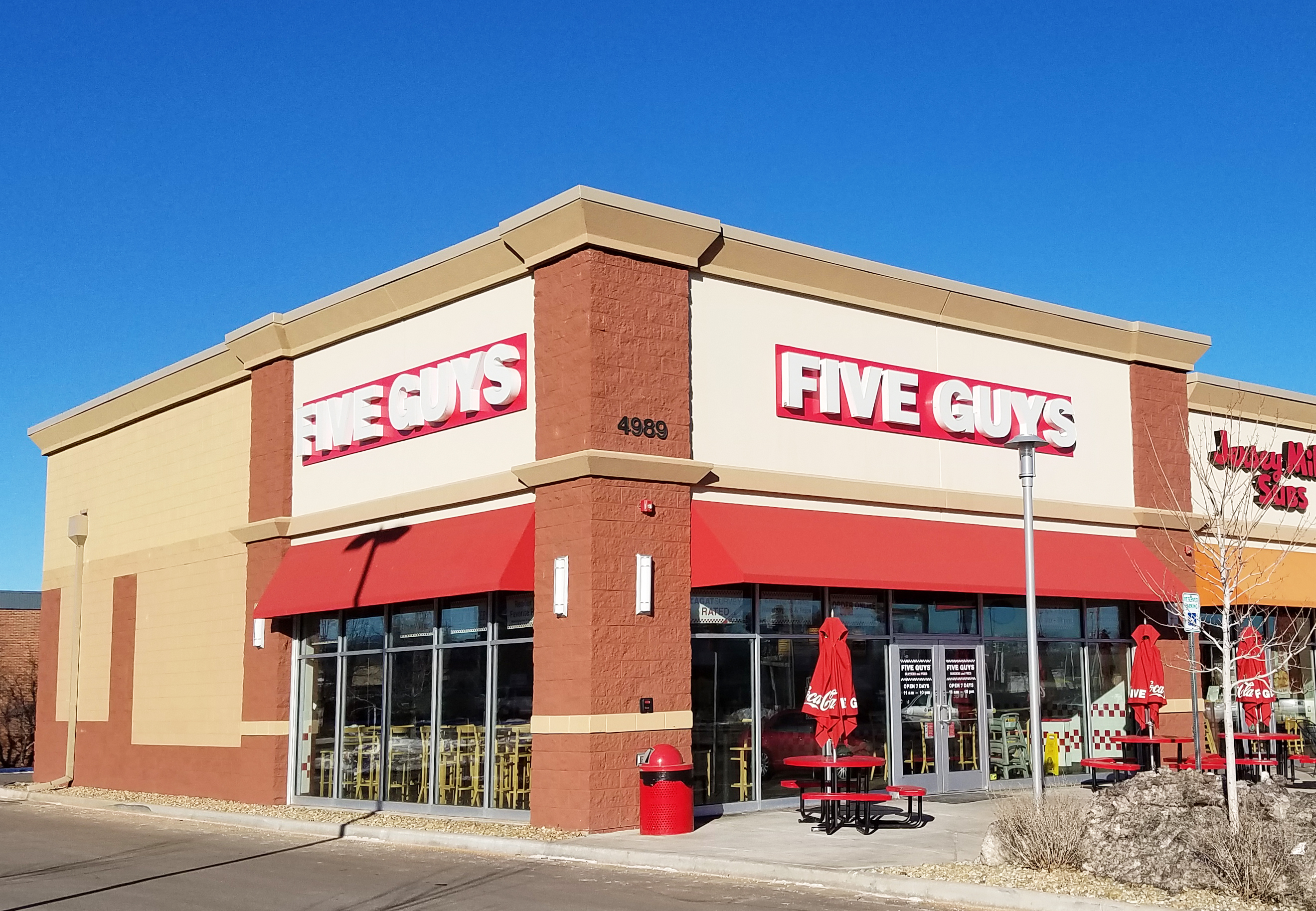 Denver, Colorado (June 26, 2017) — Encore Restaurants, LLC, a subsidiary of Encore Enterprises, Inc. is pleased to announce it has purchased a portfolio of Five Guys Burgers and Fries restaurants in Denver, Colorado. The group has purchased a total of 10 existing stores as well as the development rights to the area.
"We are pleased to be expanding our portfolio into Colorado," said Dale Doerhoff, President of Encore Restaurants. "The acquisition of the Denver portfolio is part of a larger franchise development strategy and we look forward to expanding into new markets across the country soon."
Open every day from 11 a.m. to 10 p.m., Five Guys serves award-winning burgers, hot dogs, and fries that are fresh, never frozen, and customizable for any taste with over 250,000 burger options to be ordered. In 2012, Forbes Magazine named Five Guys the fastest-growing restaurant chain in the U.S. Five Guys and has been ZAGAT survey rated every year since 2001. The restaurant beat out two-time leader, In-N-Out Burger for the 2017 Harris Poll EquiTrend Restaurant Brand of the Year award and was also included in PEOPLE's "100 Reasons to Love America".
"Since opening the brand to franchising in 2003, the Five Guys brand has grown exponentially" said Bharat Sangani, Chairman of Encore Enterprises. "We hope to grow our portfolio alongside the Five Guys brand and become one of the leading Five Guys franchisees in the nation"
Encore Restaurant now holds a portfolio of 35 stores across California, Oklahoma, and Colorado and development rights to 45 additional stores, for a total portfolio of 80 stores across the three states.
About Encore Enterprises, Inc. – Encore Enterprises, Inc. is a privately owned national real estate company founded in 1999 with corporate headquarters in Dallas, Texas. Encore develops, acquires, and manages hotels, multi-family communities, retail shopping centers, commercial offices, and public-private mixed use developments. For more information about Encore Enterprises, Inc., visit encore.bz or call (214) 259-7000.
About Encore Restaurants, LLC – Encore Restaurants, LLC. develops, owns and manages specific territories of various Full Dining, Fast Casual, and Quick Serve concepts across the United States. For information regarding future development locations, contact Stacey Barber at 228-547-0293.