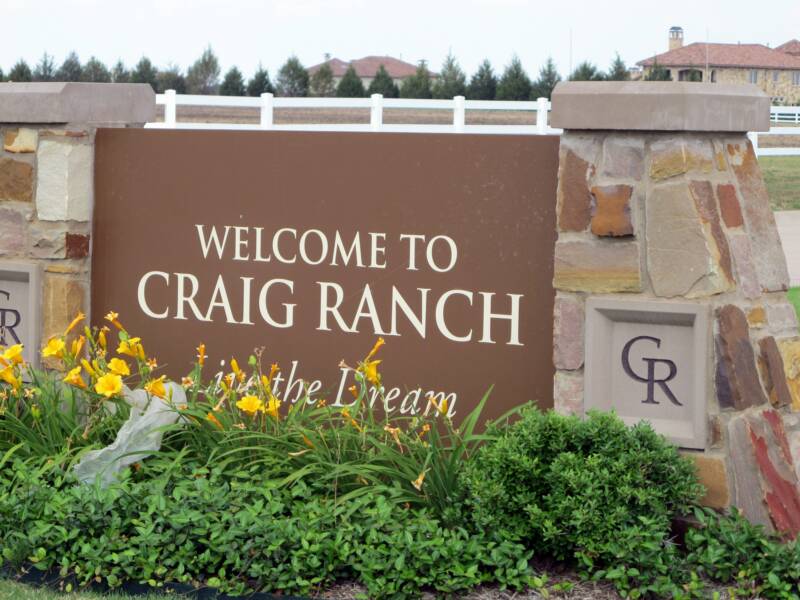 (Dallas, Texas) October 16, 2014 – Encore Retail, LLC, a subsidiary of Dallas-based Encore Enterprises, Inc., acquired land to develop a 20-acre Class A neighborhood retail development in the master planned community of Craig Ranch, a 2,200 acre master-planned business, retail, and residential community. The development will be located at the city limit lines of McKinney and Frisco, Texas, at the northeast intersection of Custer and Stacy Roads.
The project will be known as Marketplace at Craig Ranch and will be anchored by a grocer with inline retail space, as well as five outparcel pad sites along Custer and Stacy Roads.
"We are excited about Marketplace at Craig Ranch and look forward to adding it to our retail portfolio. With the excellent access, quality of the design, and strong trade area, the development will appeal to a wide array of retailers looking to expand into the growing submarket," said Nicholas Barber, President of Encore Retail.
McKinney, Texas was ranked as the number one best place to live in America and is ranked as one of the fastest growing communities in the United States according to Money Magazine. The award-winning Craig Ranch is a high profile, regional point of destination, with its open space and ambiance serving as a natural setting for outdoor concerts, water-inspired events, art fairs, and exhibits.
"North Texas is rapidly growing and McKinney is positioned in the center of that growth," said Bharat Sangani, Chairman of Encore Enterprises. "We are proud to be providing Craig Ranch with a first-class neighborhood shopping center."
The project is already experiencing strong interest from regional and national retailers.
About Encore Retail, LLC
Encore Retail, LLC is a privately held commercial real estate company focused on the acquisition, ownership, development, redevelopment and management of retail shopping centers throughout the United States. For more information, visit Encore Retail, LLC or call (214) 259-7000.
About Encore Enterprises, Inc.
Encore Enterprises, Inc. is a privately owned national real estate investment company founded in 1999 with corporate headquarters in Dallas, Texas. Encore develops, acquires, and manages hotels, multi-family communities, retail shopping centers, commercial offices, and public-private mixed use developments. For more information, visit Encore Enterprises, Inc. or call (214) 259-7000.
New York
,
California
,
Texas
,
Retail Property Investment
,
Retail Investment Opportunities
Amy Upton
2018-07-23T11:22:51-05:00
Share This Story, Choose Your Platform!