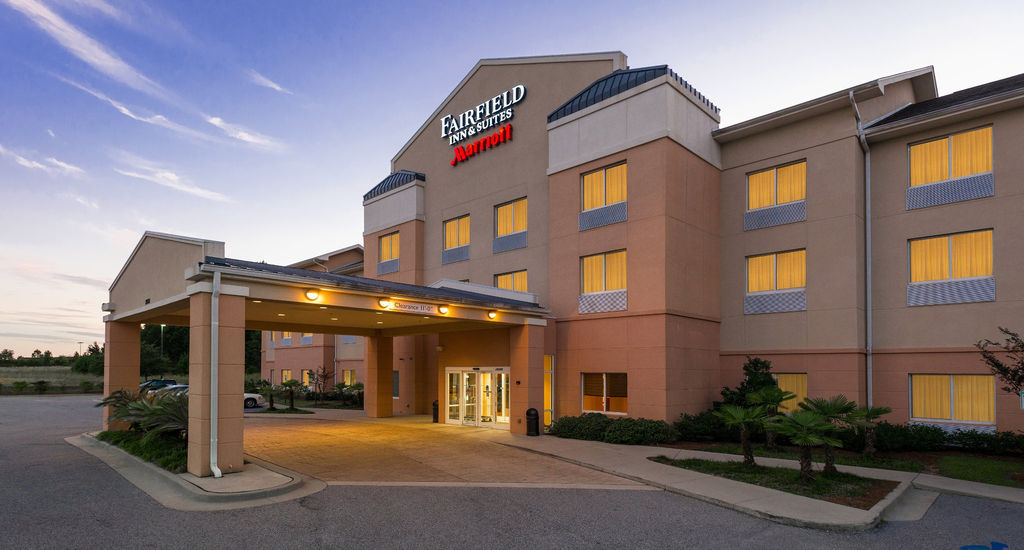 (Spanish Fort, AL) November 1, 2017 – Discover a blend of savvy style and functionality at the award-winning Courtyard Marriott Mobile Daphne/Eastern Shore and the Fairfield Inn & Suites Marriott Mobile Daphne/Eastern Shore hotels. Both hotels, owned by Encore Hospitality, LLC, have recently undergone some significant upgrades which encompassed all guest rooms and suites, lobby spaces, and fitness centers, as well as the meeting space and the Bistro.
At both the Courtyard and Fairfield Inn hotels, newly updated guest rooms feature an upgraded electronic key lock system, comfortable bedding, free high-speed wired and wireless internet access, in-room coffee service, premium bathroom amenities, a mini refrigerator, LCD televisions, alarm clock radios with pre-programmed music stations, numerous conveniently-placed outlets, and a comfortable seating area. In addition, both hotels have upgraded to an innovative in-room entertainment platform for guest room televisions which includes access to popular internet-based options including Netflix, YouTube, Hulu, Crackle, and Pandora. Courtyard Marriott's newly enhanced lobby space features many flexible conversation seating areas for working or relaxing with cozy touches like a library, soft lighting, and a home theater area, while the Fairfield welcomes weekday travelers with freshly baked Otis Spunk Meyer cookies and an inviting lobby complete with comfy seating and a fireplace.
"We are confident that these upgrades will enhance our customers' experience, whether they are staying with Marriott for business or pleasure," stated Glenn Pedersen, President of Encore Hospitality.
To commemorate the occasion, Courtyard Marriott is inviting the local business community to see hotel renovations first hand at an open house on December 7, 2017 from 5p.m. – 7p.m. Guests will enjoy appetizers, beer and wine, networking, hotel tours, and a chance to win exciting prizes, such as a free stay at other Encore Hospitality hotels, including the Q&C Autograph hotel in New Orleans, Doubletree Suites near the new Atlanta Braves Stadium, Courtyard Marriott in Biloxi, and Courtyard Marriott in Spanish Fort. RSVP's are not required but are requested and can be e-mailed to Shannon.Collins@Marriott.com.
About Marriott International, Inc. – Marriot International, Inc. was founded in 1927 and is a leading global lodging company with more than 6,000 properties in 122 countries and territories. Visit Marriott Mobile Daphne/Eastern Shore and Fairfield Inn & Suites Marriott Mobile Daphne/Eastern Shore online.
About Encore Hospitality, LLC – Encore Hospitality, LLC is a subsidiary of Encore Enterprises, Inc., and was founded in 1999 as a fully integrated, hospitality acquisition, development and asset management company focusing on the upper mid-priced, nationally branded select-service and full-service hotel sector. For more information, visit Encore Hospitality, LLC or call (214) 259-7000.