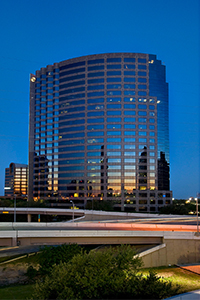 (New York) February 4, 2016 – New York Life Real Estate Investors and Encore Office, LLC announced the acquisition, on behalf of institutional investors, of 5005 LBJ Tower, formerly known as Occidental Tower. The 24-story, 549,170 square foot office building is strategically located at the northwest corner of the Dallas North Tollway and the newly re-constructed LBJ Freeway in Dallas.
Since 1992, the Class AA asset has been owned by Occidental Tower Corporation, a subsidiary of Dallas-based Occidental Chemical Corporation (OxyChem). The property is 94 percent leased to tenants including Susan G. Komen Foundation, Encore Enterprises, and OxyChem, which will remain as a tenant in the building. The prime top five floors of the property will become available in August.
"This unique, high quality asset is an excellent opportunity for us to invest in a key location in Dallas at a time when the revitalization of the Galleria area is just beginning," said Scott Ingham, Director at New York Life Real Estate Investors.
"We could not be more pleased to have purchased this iconic property, which was made possible by the close relationship that we maintained over the years with Occidental," said Patrick Barber, President and Chief Executive Officer of Encore Enterprises. "This transaction is incredibly meaningful to us as it is where we have headquartered our office since 2006," said Dr. Bharat Sangani, Chairman of Encore.
The new ownership team intends to complete a multi-million dollar lobby renovation and make improvements to the overall campus. Renovations are expected to start within a few months and will include upgrades to the building's amenities. Plans include a new conference facility, tenant lounge, and state-of-the-art fitness center. Stream Realty Partners has been awarded the management and leasing of the asset. J.J. Leonard, managing director, Sara Terry, vice president, and Chase Lopez, senior associate of Stream's office division in Dallas will lead the leasing efforts for the property.
"There is a great deal of excitement about this acquisition with all entities involved. It's one of the most iconic suburban assets in Dallas, combing unmatched quality, location and exposure for companies looking for high-quality office space," said J.J. Leonard, managing director, Stream Realty Partners.
About New York Life Real Estate Investors
New York Life Real Estate Investors is a division of NYL Investors LLC, a wholly-owned subsidiary of New York Life Insurance Company.
New York Life Real Estate Investors is a full service, fully-integrated real estate enterprise with more than 100 professionals. The division has market-leading capabilities in origination, underwriting, and investment in real estate equity products and related debt, including real estate equity investments, commercial mortgage loans, commercial mortgage backed securities, and unsecured REIT bonds. With over $45.6 billion in assets under management as of December 31, 2015, New York Life Real Estate Investors is actively seeking to acquire additional properties throughout the U.S.
About New York Life
New York Life Insurance Company, a Fortune 100 company founded in 1845, is the largest mutual life insurance company in the United States* and one of the largest life insurers in the world. New York Life has the highest possible financial strength ratings currently awarded to any life insurer from all four of the major credit rating agencies: A.M. Best (A++), Fitch (AAA), Moody's Investors Service (Aaa), Standard & Poor's (AA+).**
Headquartered in New York City, New York Life's family of companies offers life insurance, retirement income, investments and long-term care insurance. New York Life Investments*** provides institutional asset management. Other New York Life affiliates provide an array of securities, products and services, as well as retail mutual funds.
*Based on revenue as reported by "Fortune 500 ranked within Industries, Insurance: Life, Health (Mutual)," Fortune magazine, 6/15/15. Read more about the methodology.
**Individual independent rating agency commentary as of 7/1/15.
***New York Life Investments is a service mark used by New York Life Investment Management Holdings LLC and its subsidiary, New York Life Investment Management LLC.
About Encore Office, LCC
Encore Office, LLC, a subsidiary of the Dallas-based Encore Enterprises, Inc, a commercial real-estate company, focuses on the acquisition, ownership, redevelopment and asset management of class "A" commercial office buildings across the United States.
About Encore Enterprises, Inc.
Encore Enterprises, Inc. is a privately owned national real estate company founded in 1999 with corporate headquarters in Dallas, Texas. Encore develops, acquires, and manages hotels, multi-family communities, retail shopping centers, commercial offices, and public-private mixed use developments.