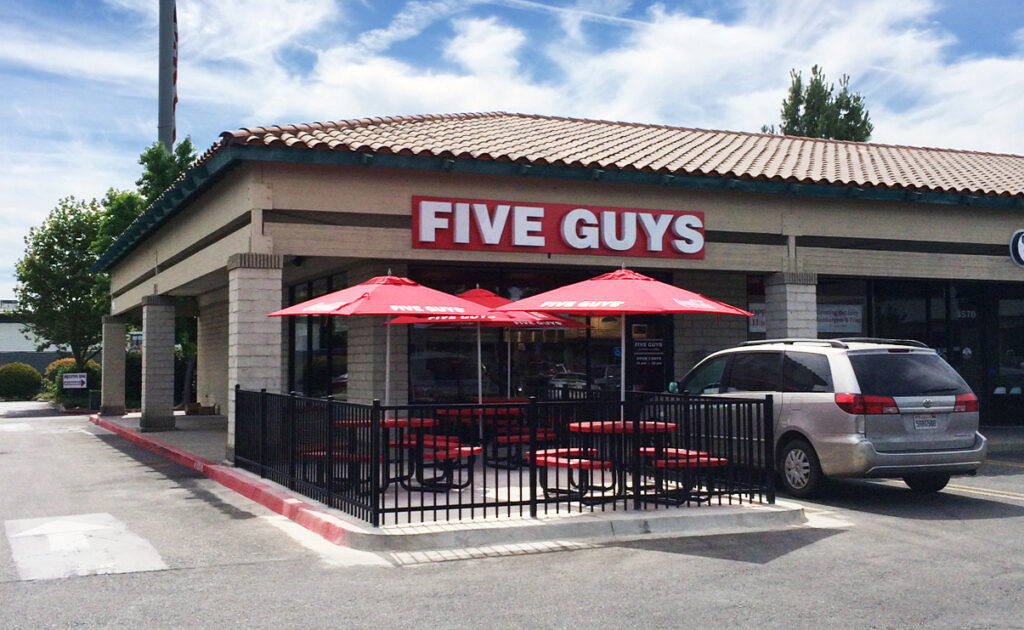 (Merced, CA) June 8, 2016 – Encore Restaurants, LLC, a subsidiary of the Dallas-based Encore Enterprises, Inc., is excited to announce the opening of its newest Five Guys Burgers and Fries restaurant today. The restaurant is located at 3572 G Street in Merced, CA, and is the thirteenth Five Guys restaurant to be owned and managed by Encore Restaurants, LLC in a continued brand expansion across California.
"We are always excited to have the opportunity to continue expanding," said Chairman of Encore Enterprises, Inc. Dr. Bharat Sangani. "Every new restaurant we open is different and every grand opening is unique."
Open every day from 11 a.m. to 10 p.m., Five Guys serves award-winning burgers, hot dogs, and fries that are fresh, never frozen, and customizable for any taste with over 250,000 burger options to be ordered. Five Guy's has been ZAGAT survey rated every year since 2001 and has been voted the Washingtonian Magazine's "Readers' Choice" #1 Burger every year since 1999.
"The Five Guy's award-winning menu will provide Merced residents with many different and delicious options," said Dale Doerhoff, President of Encore Restaurants. "We are excited to share this renowned brand with the residents of Merced."
About Encore Enterprises, Inc. – Encore Enterprises, Inc. is a privately owned national real estate company founded in 1999 with corporate headquarters in Dallas, Texas. Encore develops, acquires, and manages hotels, multi-family communities, retail shopping centers, commercial offices, and public-private mixed use developments.
About Encore Restaurants, LLC – Encore Restaurants, LLC. develops, owns and manages specific territories of various Full Dining, Fast Casual, and Quick Serve concepts across the United States. For information regarding future development locations, please contact Stacey Barber at 228-547-0293.