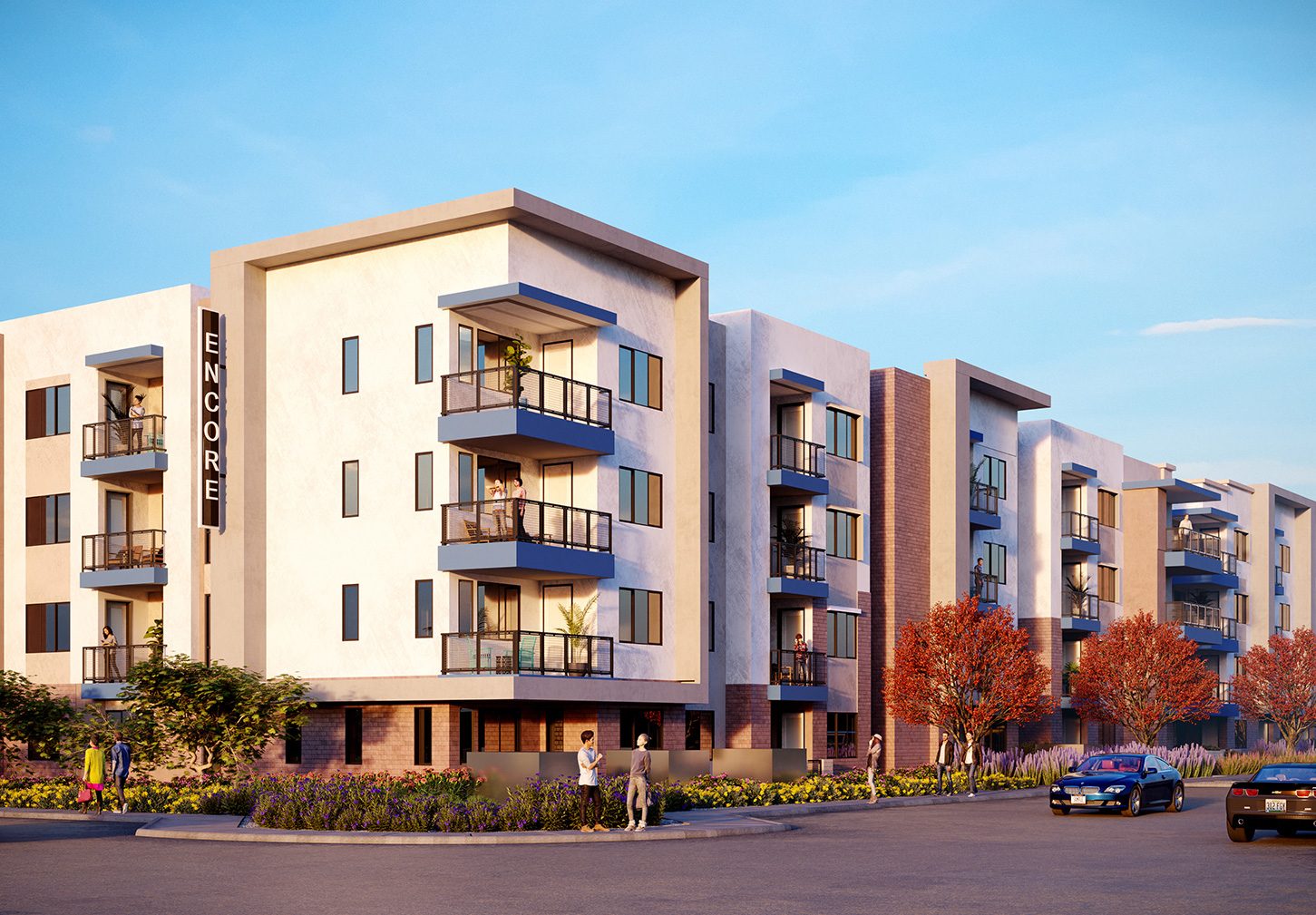 (Dallas, TX) January 12, 2021 – Dallas-based Encore Multi-Family, a division of Encore Enterprises, has closed on the debt and equity financing for a class-A, apartment development located in a Qualified Opportunity Zone (QOZ) in downtown Chandler, Arizona. Easily accessible from Highway 202 and within walking distance of the city's civic center, co-working hubs, restaurants, retail, and other lifestyle amenities, the 208-unit community will be the first multifamily development in historic Chandler since 2016.
A testament to the strength of the opportunity, Berkadia's JV Equity & Structured Capital, led by Chinmay Bhatt, Noam Franklin and Cody Kirkpatrick sourced a publicly traded REIT as the $10.25 million equity partner on the deal. "As a dominant player in the multifamily sector, Encore is pleased to expand its relationship with Berkadia to include equity placement," said Charlie Keels, President of Encore Multi-Family. "We have enjoyed working with Berkadia and continue to appreciate the power of their relationships as well as consistency and quality of their work."
"We are thrilled to continue working with such an experienced firm like Encore. Their ability to source a well-located infill site coupled with their successful multifamily development track record in the Phoenix market made this opportunity very attractive for a variety of equity partners," said Kirkpatrick.
The new development in Chandler will offer one and two-bedroom units designed to provide variability in pricing to the market and will include private balconies and designer-inspired interiors with high-end finishes. Planned common amenities include a resort-style club and pool area, business center, media and game room, and a two-story fitness center. Construction is scheduled to begin in the first quarter of 2021.
About Encore Multi-Family
Encore Multi-Family, LLC is a subsidiary of Encore Enterprises, Inc. and was founded in 2008 as a fully integrated multifamily developer, owner, and operator. The company is involved in all aspects of multifamily development projects and acquisitions, including ground-up developments, joint ventures, and mixed-use turnkey developments. For more information about Encore Multi-Family, LLC, visit www.encore.bz, or call (214) 259-7000.
About Berkadia
Berkadia, a joint venture of Berkshire Hathaway and Jefferies Financial Group, is a leader in the commercial real estate industry, offering a robust suite of services to our multifamily and commercial property clients. Through our integrated mortgage banking, investment sales and servicing platform, Berkadia delivers comprehensive real estate solutions for the entire life cycle of our clients' assets. To learn more about Berkadia, please visit www.berkadia.com.
© 2020 Berkadia Proprietary Holding LLC. Berkadia® is a registered trademark of Berkadia Proprietary Holding LLC.
Commercial mortgage loan banking and servicing businesses are conducted exclusively by Berkadia
Commercial Mortgage LLC and Berkadia Commercial Mortgage Inc.
Investment sales / real estate brokerage business is conducted exclusively by Berkadia Real Estate Advisors LLC and Berkadia Real Estate Advisors Inc.
This advertisement is not intended to solicit commercial mortgage loan brokerage business in Nevada.
In California, Berkadia Commercial Mortgage LLC conducts business under CA Finance Lender & Broker Lic. #988-0701, Berkadia Commercial Mortgage Inc.  under CA Real Estate Broker Lic. #01874116, and Berkadia Real Estate Advisors Inc. under CA Real Estate Broker Lic. # 01931050.
Tax credit syndication business is conducted exclusively by Berkadia Affordable Tax Credit Solutions.
For state licensing details for the above entities, visit: http://www.berkadia.com/legal/licensing.aspx